Macomb Enhancement Millage
Macomb Intermediate School District, in compliance with the Regional Enhancement Millage Law (MCL.380.705) after receiving requests from districts representing 51 percent of Macomb County's student population authorized the 1.9 Enhancement millage for the March 10, 2020 Presidential Primary. Macomb schools have a long-standing reputation for providing quality programs, carefully serving as stewards of funds provided by state, federal, and local revenue sources. Since 2011, when the State of Michigan made major financial tax changes, hundreds of millions of dollars have been dedicated from the State School Aid Fund for other governmental obligations. [Gongwer, December 26, 2019]
According to reports published by Citizens Research Council: "Between 2008 and 2018, data shows the average salary for Michigan teachers only rose 2 percent." [Memorandum 1159, September 2019]
A comparison of neighboring counties, utilizing MDE Bulletin 1014, demonstrates that Macomb County schools receive on average several hundred dollars less per student, leaving many districts behind.
For additional information, please review recent studies on school finance and reform, such as:

Diversity Day Student Attendees at MISD

Naturalization Ceremony at MISD
$55 million for Macomb County Public Schools
The 1.9 mills would raise an additional $55 million per year, for the next 10 years, for Macomb County public schools.
Less than $100/year per $50K Taxable Property
According to the 2019 Macomb Equalization Report, the average Macomb County Home is valued at close to $200,000. The 1.9 enhancement millage would cost approximately $190 per year on a home valued at $200,000 or approximately $95 per year on a home valued at $100,000.
More funding for public schools
Public schools would receive over $400 per student per year.
All public schools receive funds
All public schools – including public charter schools – would receive funds raised through the millage.
Investment choice given to the schools
Each school/district decides how funds will be invested based on its needs relative to other state and local funding.
Click on your district for more information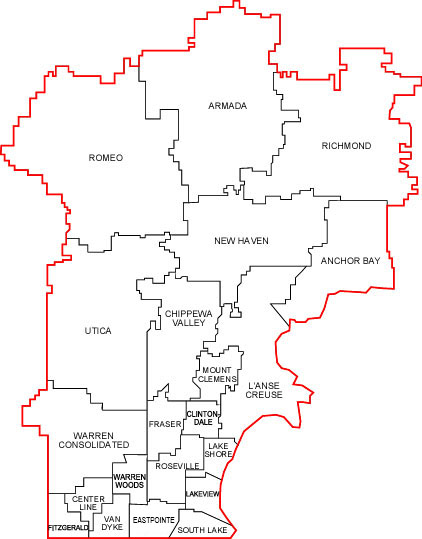 Information about Macomb County Schools
School Enrollment
1999-2000 – 126,616
2006-07 – 140,664
2017-18 – 130,309
2019-20 – 125,868
Special Education – 18,959
EL – 11,060
68% - White
19% - African American
Asian or Pacific Islander - < 5%
Hispanic - 3%
Over 100 languages spoken in the county
McKinney Vento (Homeless Students) – Federal Statute

2008-09 – 637 students
2016-17 – 1,736 students (63% increase in 9 years)
2017-18 – 1,600 students
2018-19 – 1,614 students
21 Public School Districts
28 Comprehensive High Schools
38 Middle Schools
121 Elementary Schools
133 Preschool Classrooms (3,400 children)
17 Public Charter Schools
Arts Academy in the Woods authorized by MISD
27 Parochial Schools
MLK Art Winners
If you wish to view additional information about programs and activities in individual districts please visit their district website below.