Welcome to the advanced section. If you are familiar with Cascade server this section will help you extend your capabilities by taking advantage of new templates and features. Whenever new features are added they will be documented here!
Multiple columns
The WYSIWYG editor now offers a new way to organize your page content.
Use up to four columns by selecting the "Multicolumn" option in the WYSIWYG editor. 
These columns automatically stack on top of each other when the browser shrinks to mobile size. This prevents content from being pushed off the page.
Each column can be given a h3 header.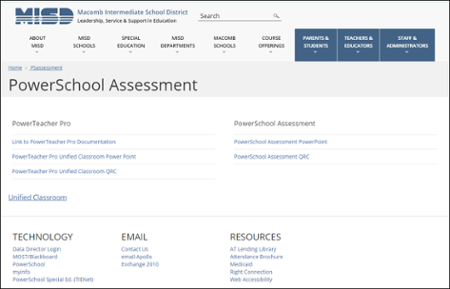 Forms
You can now create forms inside Cascade Server and have the results emailed, stored in excel, or saved as pages in the CMS.
Choose New > Simple Form from the Cascade menu to learn more!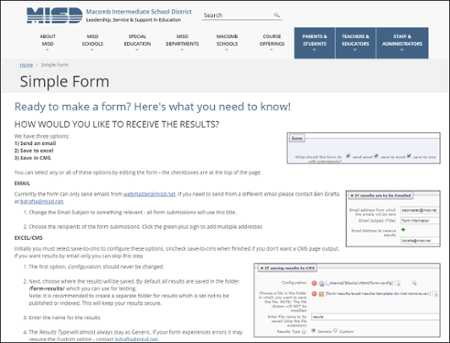 Custom Styles
If you feel comfortable enhancing your page with custom CSS then this option is for you.
Sometimes a page needs unique styles that aren't applied to the rest of the site. Upload your custom Cascading Style Sheet and you have access to all the created styles for that page.
Please remember that all pages must conform to WCAG 2.0 AA rules. Pay special attention to contrast ratios with custom colors.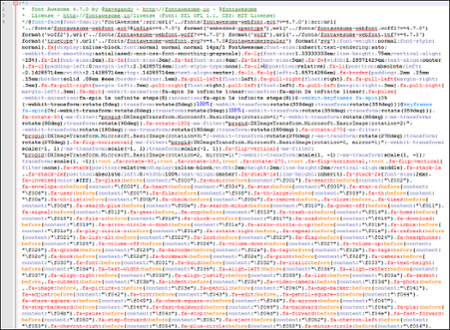 Chrome Extension
MISD has created a browser extension for chrome that adds a button to jump directly to the edit page in Cascade.
This is currently only available by request. Contact bdrafta@misd.net for more information.