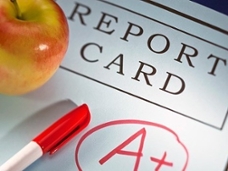 Over the past several years the Michigan Department of Education has attempted to bring together the various federal and state requirements for school improvement into one place so schools can speak with a common vision and a common language.
The result of these efforts is One Voice - One Plan.  It is the intent of the Department that school improvement is a continuous process, not a one-time event.  The School Improvement Plan with each of its components is intended to be the vehicle that drives the continuous improvement process.
This process cycle provides the foundation to address school improvement and promote student achievement through a comprehensive and systemic approach consisting of the following main tasks:
Stage One Gather - Collect Data and Build School Profile
Stage Two Study - Analyze Data, Set Goals and Objectives
Stage Three Plan - Develop an Improvement Plan
Stage Four Do - Implement, Monitor, and Evaluate this Plan
      
The 3rd Edition of the always popular "Data Reference Points for the Michigan School Improvement Process" by Lisa Guzzardo Asaro, Dr. Jennifer Parker-Moore and Deane Spencer has been available since 2013-14.  Currently this manual is in revision to address MDE changes. 
This is a complete "how to guide" for the Michigan Continuous School Improvement process which includes checklists and data resources to assist with state reporting.
Freely available online, or you may order a print copy in color at cost. 
For questions and ordering information, email Angie Chirio at achirio@misd.net