Click here to view a training video on the Perspectives on Trauma and Resilience: Information Training Video for Educators and Other School Staff. There are two videos one with prompts to pause for discussion if you are showing this to a group of people and one without the prompts.
"After all, when a stone is dropped into a pond, the water continues quivering even after the stone has sunk to the bottom." ― Arthur Golden, Memoirs of a Geisha
Child Trauma Toolkit for Educators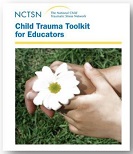 Research suggests that approximately 25% of American children will experience at least one traumatic event by the age of 16. A child's reactions to trauma can interfere considerably with learning and/or behavior at school. However, schools also serve as a critical system of support for children who have experienced trauma.
Administrators, teachers, and staff can help reduce the impact of trauma on children by recognizing trauma responses, accommodating and responding to traumatized students within the classroom setting, and referring children to outside professionals when necessary. The National Child Traumatic Stress Network has developed tools and materials to help educators understand and respond to the specific needs of traumatized children.
This one-page fact sheet is designed to help educators learn more about the impact of trauma on children's behavior and performance in a school or classroom setting. It also provides specific recommendations for teachers to help mitigate the impact of trauma on children in the classroom.
These comprehensive documents below are intended for educators who work primarily with preschool, elementary, middle school, and high school students, respectively. They describe how to identify children in the four age groups who may be experiencing traumatic stress reactions. They also teach educators how to manage these children within the school and classroom settings.
Psychological and Behavioral Impact of Trauma: Preschool Children
Psychological and Behavioral Impact of Trauma: Elementary Students
Psychological and Behavioral Impact of Trauma: Middle School Students
Psychological and Behavioral Impact of Trauma: High School Students
Working daily with children who have been exposed to trauma can be very difficult for school professionals. This handout defines secondary traumatic stress, compassion fatigue, and vicarious traumatization: three reactions that educators who work with traumatized children may have. The handout describes why these reactions are so important to prevent and address, and outlines specific recommendations for appropriate self-care.
This document provides a list of simple and straightforward strategies educators can use to accommodate a traumatized child in the school setting. It also teaches educators how to determine when traumatic stress reactions are severe enough to merit a referral for additional help.
Brief Information on Childhood Traumatic Grief: Parents
This document defines child traumatic grief and distinguishes it from normal childhood grief following the death of a close friend or family member. Some of the key features of child traumatic grief are discussed, along with examples of how it is similar to and different from normal grief. The document offers guidance for adults who encounter a child with child traumatic grief, including how and when to seek professional help.
For School Personnel: Brief Information on Childhood Traumatic Grief
This information sheet focuses primarily on how teachers and school personnel can identify and assist children in their school who are experiencing child traumatic grief. While acknowledging that most children who have experienced the death of a close friend or family member do not develop childhood traumatic grief, the information sheet identifies specific signs and symptoms of childhood traumatic grief for teachers to look for. This resource also outlines strategies that school staff can engage in to help students with child traumatic grief.
http://nctsn.org/sites/default/files/assets/pdfs/ctte_elementary.pdf
Trauma fractures comprehension as a pebble shatters a windshield. The wound at the site of impact spreads across the field of vision, obscuring reality and challenging belief. Jane Leavy
Read more at: https://www.brainyquote.com/quotes/quotes/j/janeleavy628094.html?src=t_trauma