Assistive Technology Defined:
Any device or service that enables persons with disabilities to participate more fully and successfully in their life roles. 
Assistive Technology in the Classroom:
Includes any tool or accommodation that allows children with special learning needs to be included in educational opportunities. Assistive technology is another strategy for expanding a student's access to the curriculum.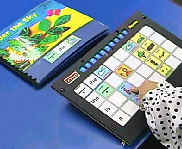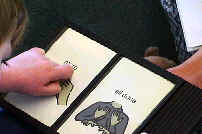 Considering Assistive Technology:
Assistive Technology must be considered annually for every student with a special need.  The consideration outcomes become part of the student's Individualized Education Plan.  Assistive Technology may be indicated when a student who is having difficulty achieving their IEP goals and objectives or making progress in the general education curriculum. Assistive Technology solutions should be explored as when an IEP team identifies a student struggling to participate in the classroom. Assistive Technology may be indicated when a special needs student is having difficulty doing what his/her classmates are doing.
Delivery of Assistive Technology Services in Macomb County:
Assistive Technology (AT) services are provided through a cooperative effort among local districts, the MISD, and related support agencies. A shared responsibility for Assistive Technology guides the provision of services by the MISD Assistive Technology Team. Providing appropriate Assistive Technology is an ongoing process of planning, problem solving, implementation and data review.  It requires a team approach with a shared vision and shared responsibility for assessment, planning, and implementation.  For more information on the Macomb County AT process, please refer to the document: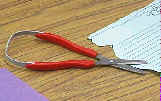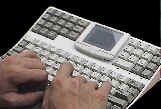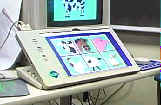 Initiating an Assistive Technology Referral:
All referrals begin at the local district level. Each local district has identified an Assistive Technology Representative Team.  Contact the Special Services Department at your schools board office.  They will direct you to the AT representatives in your district. 
Assistive Technology and IDEA 2004
IDEA 2004 States:
"Annual Consideration of assistive technology devices and services is required for all children identified as having an exceptional need."

IDEA 2004 defines Assistive Technology Services as:
"Any service that directly assists a child with a disability in the selection, acquisition, or use of an assistive technology device."

IDEA 2004 defines Assistive Technology Devices as:
Any item, piece of equipment, or product system, whether acquired commercially off the shelf, modified, or customized that is used to increase, maintain, or improve functional capabilities of children with disabilities.
Accessible Education Materials (AEM) Center
Assessment to Determine Reading Accommodations
Reducing Reading Complexity
Summarize Content
Vocabulary Support
Adjust the Reading View
Text-to-Speech
Microsoft
Apple
Chromebook
Browser Extensions and/or Desktop Programs
Convert Inaccessible Text with Optical Character Recognition (OCR) Support
Digital Texts
Bookshare and Related Materials
More Digital Texts
Mobile Apps to Support Reading