Click headings below to view the content
In the upper left part of your screen there are 4 links:

Each is described below.
System Menu –

allows access to search, publisher queue and the preference screen described above. 

The search is a great feature allowing you to find all pages with a certain word in them.  Try it out.

Home – this takes you back to the home screen that you are looking at now.

New Menu –

provides options for creating new folders, files, and web pages based on pre-designed templates.

History Menu

– shows where you have been and provides a quick link back.
The links on the right side of the screen:

Provide access to some of the same features shown elsewhere like the Dashboard and History under Quick Links. 
User Preferences are under My Settings. 
There are also options to get Help from the Cascade Server site and Log Out.
The dashboard on your home page provides many of the options that are also available on the menus described in chapter 1. 
Your dashboard is customizable.  You may remove any of the widgets you do not want to use by clicking on the gear in the upper right corner and choosing Remove Widget.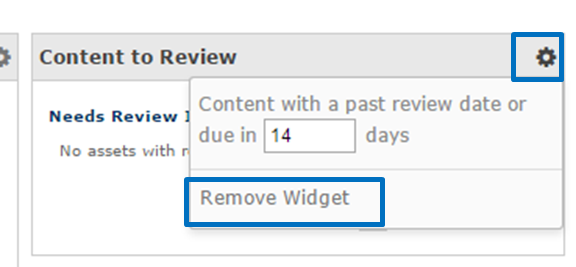 If you decide that you want to add a widget back, you can select the Add Widget button in the upper right corner or Reset Dashboard.

The tabs across the top of the dashboard provide additional information that is helpful for managing your site such as:
Messages from the system of actions taken on your behalf such as deleting or publishing content.
  
Drafts of documents that you have started and were saved on your behalf.
  
Stale content that needs to be reviewed.
  
A recycle bin with delete content that can be restored.