Click headings below to view the content
There will be 2 folders added to each content folder of the site – files and images.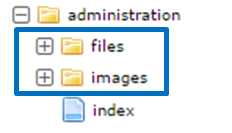 All images that are added to the site will be placed into the images folder. 
    
All files that are added to the site (other than web pages and images) will be places into the files folder (or other folders if you have many additional files).  This would include PDF files.
This practice is in place to keep the site organized. Only web pages should be in the main folder for your site.
To create a new folder:
Make sure that your site folder is selected.



Choose New > 

Default > F

older

from the menu in the top left.




Enter a name for the new folder and make sure the correct parent folder is selected.  Then click Submit.



Do not use any spaces in the names of files or folders on the web.  Use only letters and numbers.  The only symbols allowed in the names are the underscore and dash.
Once a folder is created you can add files (pdf, etc.) and images to them:
Select the folder that the file will be housed in.

Select New > 

Default > 

File




Drag and drop the file into the dotted rectangle on the screen or use the Choose File button.



Select the file and click the Open button.  (The same process is used to select both image and pdf files.)





The system name will be displayed along with a message that the file was received.






Add a Display Name that will be used when linking to this file.




Click Submit.




The document will be displayed in your files folder.




If you ever need to download the file from your site, you can do that by selecting the file and using the Download button that appears.