There are 3 types of web page templates that have been created for the new site.  These can be seen under the New menu.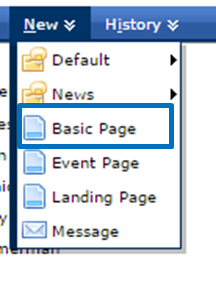 In this training the focus will be on the Basic Page, which is the template that will be used most often.  The Event Page and Landing Page templates are special purpose templates.
The Basic Page Template
The Basic Page template can be configured in many different ways so that there is an effective combination of a consistent template and variety.  
The options with the template include any combination of the following (click each heading to view the content):